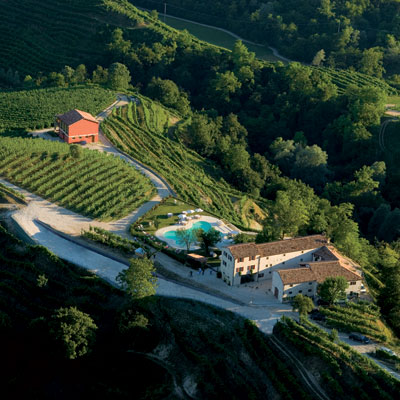 Duca di Dolle Estate, an oasis of peace and nature immersed in the green wood and in the silence of the vineyards, is located in Rolle di Cison di Valmarino, in the heart of the Prosecco Superiore production area.
The Estate is composed of 75 hectares, of which 15 are dedicated to vineyards. The remaining 60 hectares are covered by orchards, sweet paths, a green wood and and a small lake.
Many out-of-the-way paradise bits to discover, while enjoying the peaceful, luxuriant nature.
Duca di Dolle vineyards, cultivated with natural farming, are situated in an area which is particularly suitable for Prosecco production, inside the ancient Estate that includes an historical monastery, now transformed in a charming Relais.
The vineyards, here called "Rive", are located in the hills at about 300 meters a.s.l. in Rolle (first Italian village to be appointed FAI – Italian Environment Fund location for landscape preservation).
Thanks to the chemically well-balanced soil, the constant humidity and the dry and airy climate, it's the perfect location for growing high quality grapes, minimizing the use of chemical products.